1) #2 Alabama (-8) at #17 Mississippi State, 2:30 p.m., CBS
The Bulldogs are a quiet 7-2 team who continue to prove that Dan Mullen can flat out coach. His staff and players will be tested by the best unit, offensive or defensive, in all of football in Bama's defense. The good news for Mississippi State is that it can't run the ball so they ought not be trying to against a Tide defense that made Leo Fournette look less than average.
2) Arkansas at #9 LSU (-7.5), 6:15 p.m., ESPN
We all know it better than most, these two programs give us entertaining football (except for last year when LSU was clearly overmatched...) no matter the teams' prior games in a respective season. Here is a nice piece on the consistently competitive games provided by the Hogs and Tigers.
1916 was the last time the Razorbacks were scoring at this clip, 50+ points in the last three games. They just might need them all if Leo Fournette gets back on track from his rancid performance last week. Brandon Allen's number will be called again for another solid outing, and Alex Collins will have to put up at least 100 yards to win in Death Valley at night.
3) #12 Oklahoma at #6 Baylor (-2.5), 7 p.m., ABC
This is about as good as Big 12 football will get this year, their version of LSU-Alabama. The Bears are again forced to rely on true freshman Jarrett Stidham. Barring his unavoidable "freshman moment" coming this weekend, the Baptists should win a close one at home. Look for a heavy rushing attack from the Sooners to limit Baylor offensive possessions a la Kansas State last Thursday.
4) Georgia (+1.5) at Auburn, 11 a.m., CBS
Neither of these programs saw this coming three months ago. This was supposed to be a huge Week 12 matchup between two undefeateds. Now it's a noon game that most, outside of the South, will not care about. Auburn's Sean White appears to be out again with a knee injury. That's a little more clarity at the quarterback position that Georgia can offer.
5) #21 Memphis (+7.5) at #24 Houston, 6 p.m., ESPN2
Both of these teams have as many SEC wins as Vanderbilt, Kentucky and South Carolina and are undefeated against the deepest conference in the game. Both head coaches could make their way to new jobs next season as they, at ages 40 and 39 are the Al Goldens and Greg Schianos of years ago (maybe that's an unfair statement). There is resume building and also a chance for a New Years Day bowl on the line.
6) Oregon at #7 Stanford (-9.5), 6:30 p.m., FOX
Only a few years ago this was must-see TV. Contrasting, yet successful, styles both on and off the field made this a spectacle. Who saw Oregon being the first to fall from the pedestal near the top of the sport? Stanford has remained constant and still runs its same three plays (16 o-linemen, run left, right or play-action). Oregon is starting to find its way again, with the defense at least somewhat present again.
7) Washington State at #19 UCLA (-9), 9:45 p.m., ESPN
The Cougars pass the ball well, while not being so strong in the rushing game. UCLA is below average in rush defense, while boasting the Pac-12's most efficient pass defense. It's not what the experts would call an "ideal matchup" for Mike Leach's crew. UCLA, at home, in more non-school colored unis win by double digits. The Orange Iguanas from Legends of the Hidden Temple look-alike decal is paying tribute to the Navy SEALs
#BruinDarkOps pic.twitter.com/OhBBi6mH45

— UCLA Football (@UCLAFootball) November 13, 2015
8) Minnesota (+12.5) at #5 Iowa, 7 p.m., Big 10 Network
Plenty of jokes have been made at the expense of an undefeated Iowa. Truth is, the team plays a pretty boring style of football but plays it cleanly. And as hard as it is to admit that Kirk Ferentz is a good coach, he is pushing all the right buttons right now. This game will not be a pretty one on the eyes, but that won't matter to the CFP committee.
9) #8 Oklahoma State at Iowa State (+14), 3:30 p.m., ESPNU
The Cowboys have seen this story before. Undefeated and playing for serious post season play. In 2011 the Cyclones ruined an all but certain OSU BCS Championship bid in double overtime. Having been down this road, Mike Gundy has his Boys ready.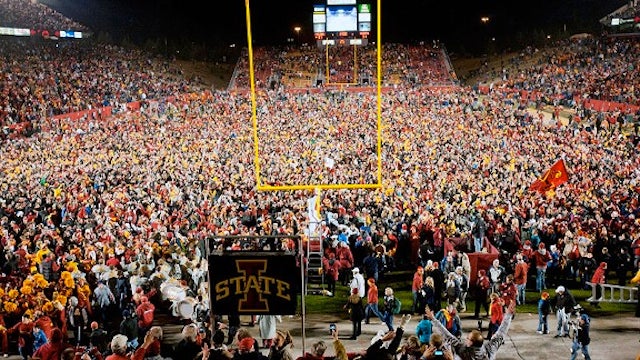 10) Kentucky (+3) at Vanderbilt, 3 p.m., SEC
Hot seats are abundant in Nashville this weekend. Kentucky is reeling after a 4-1 start to the season and Vandy can't win games. Vandy ranks first in the SEC in opponent's conversion rate on third down, but that's because teams have usually converted first downs in only two downs. Sure seems like they wasted all of their good juju last week in a loss.
Other picks
Miami (+12) at North Carolina
Virginia at Louisville (-13)
Kansas State at Texas Tech (-5.5)
Utah (-6) at Arizona
BYU (-6.5) vs. Missouri
Pittsburgh at Duke (-3)
Season record: 64-48