Usually in this spot is where I try and convince you that despite a tough schedule this weekend that you should watch because you never know if one of the top-ranked favorites could go down. However, this week, in a scheduling oddity, none of them are playing.
There is no getting around it that this is one of the more desperate weekends of college football in some time. Last night's slate was more impressive than any two games tomorrow. That won't keep us from watching, though. Taking all road teams this week will cause an unnecessary amount of stress for me...
1) #9 Notre Dame (-10) at #21 Temple, 7 p.m., ABC
Temple coach Matt Rhule has this program headed back in the right direction of what Al Golden started four years ago. No Miami… leave Rhule alone.  Notre Dame should leave the City of Brotherly Love with a win, but they will have to earn it. The Irish have too much on the line to squander this game.
2) #11 Florida (-3) vs. Georgia, 2:30 p.m., CBS
If the Bulldogs can win here they'll still have a shot at the SEC Championship, a destination that would have seen near impossible even two weeks ago. Last season in this spot the Dawgs had their title game hopes crushed as Florida ran every which way possible. UGA tries and return the favor a year later.
3) #8 Stanford (-11) at Washington State, 9:30 p.m., ESPN
Stanford can take one step closer to a PAC-12 North title with their eighth consecutive win in this series. The Cardinal have steamrolled since their win over USC, defeating their last three opponents by an average of 24 points. Not as accustomed to success, the Cougars won their third straight conference game for the first time since the early 70s. So when you think being a Razorback fan is hard, try being a Cougar for forty years.
4) #19 Ole Miss (-7.5) at Auburn, 11 a.m., ESPN
If the same inspired Rebel team that played last week comes to Auburn, the Tigers have no chance. If it's the same lackluster team that played in the second half at Memphis the Tigers will have more of a chance but not much of one. Expect to see a scrappy Auburn team though because this could be one of their best chances at a victory, inching closer to bowl qualification.
5) Southern Cal at California (+6), 2 p.m., FOX
Following the model of recent Trojan teams, the interim coach (Orgeron, Helton) has delivered wins after firing what was supposed to be the program's savior (Kiffen, Sarkisian). Now they'll get a Cal team who was absolutely destroyed by the other team from LA last Thursday.
6) UT-Martin at Arkansas, 3 p.m., SEC Network
A breakin the schedule after a four overtime win is welcomed. Though I am weary to call any game a "break" knowing this program's history with smaller programs. Yes UT-Martin is that team Ole Miss crushed by 70 points during Week 1. This game could not have come at a better time, giving backups who are replacing injured starters should get extra reps. There was no line set at time of publishing.
7) Miami at #22 Duke, 6 p.m., ESPN
Speaking of interim coaches trying to ease the transition from one alleged program savior to the next, Larry Scott will get his try at leading the Hurricanes. He's not even the only interim in his own city trying to do the same because the other pro team in Miami (the Dolphins) find themselves in the same situation. Football… where everyone gets fired. There was no line set at time of publishing.
9) #12 Oklahoma State (-3) at Texas Tech, 2:30 p.m., ESPN
The Cowboys somehow dug deep last week after the horrendous effects of an incident during the homecoming parade and beat Kansas. The program is quietly undefeated but still has the most difficult section of their season ahead of them. If they can establish a rushing attack early against a putrid Red Raider defense, they can come away with a road win. Also good on Texas Tech fans for this thoughtful gesture.
9) Tennessee (-8.5) at Kentucky, 6:30 p.m., SEC Network
The Volunteers take their nation-leading moral victories to Lexington in search of their second conference win. Now starts the downhill slide of competition of UT's remaining schedule. Tennessee's last five opponents have as many conference wins as fingers on your hand. Getting to eight wins starts with a road trip a downward trending Wildcat team.
10) #5 Clemson(-10.5) at North Carolina State, 2:30 p.m., ABC
Since a Thursday night scare at Louisville in September, the Tigers have been the nation's most complete team. So much so that their 58-0 hammering of Miami got a man fired. Deshaun Watson has remained healthy, which is key to success going forward. It will always be difficult to trust this team because of the paw on the helmet and knowing their past.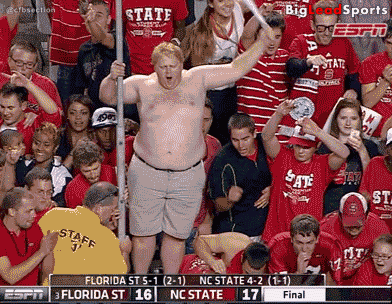 Other picks:
UCF (+27.5) at Cincinnati
Tulane (+32) at Memphis
Tulsa (-2.5) at SMU
Georgia Tech (-5.5) at Virginia
Season record: 48-47