Said it here last week and the national media stayed on it all weekend during the SEC West's games, the conference is deep. It moved to 22-0 versus teams outside the division.
As dominant as the West has been, the East is perplexing. One team looks like it may take the lead as the best team one week and then looks off the next. Inter-conference play will help determine the best teams in the East no doubt, but with the way these teams play, I wouldn't be surprised if the best East team doesn't play in Atlanta for the conference title.
1) Alabama (4-0, 1-0 SEC) Last week: 2- Sims is the future at quarterback for the Tide, as said here weeks ago. He threw for 445 yards and 4 scores. After getting behind in the world's longest first quarter (seriously, get better CBS), the Tide fought back to tie the game and never got behind again. The praise Lane Kiffin received for this playcall made me vomit a little. It was bold yes, but life-changing? Eh... Verne and Gary have been known to overact, though.
2) Texas A&M (4-0, 1-0) LW: 1- Kenny Hill against the Arkansas pass defense. Hill threw his first pick of the season, and a cadet saved Reveille from a charging SMU receiver.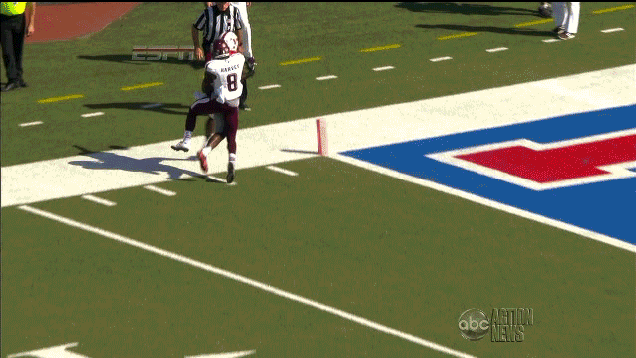 credit: Deadspin
3) Auburn (3-0, 1-0) LW: 3- Nothing about Kansas State knows how to kick.
4) Mississippi State (4-0, 1-0) LW: 8- After avoiding a complete meltdown at LSU, the Bulldogs -- who might have the best quarterback in the SEC -- are riding some serious momentum. Do you know what momentum is? Let Ray Lewis explain:
5) South Carolina (3-1, 2-1) LW: 5- The HBC now trails only Bear Bryant for coaching victories in the SEC. The humbling news? He's only 90 victories away from tying the Fordyce native.
6) Ole Miss (3-0, 1-0) LW: 6- Another easy non-conference game awaits the Rebels this week. Memphis gave UCLA a run for its money out on the west coast so maybe we'll get a good game.
7) Georgia (2-1, 0-1) LW: 7- Bulldogs took a nice bite out of Troy. Remember when Troy was respectable?
8) Florida (2-1, 1-1) LW: 12- The Gators gave up more yards in this single game than in the history of the program, but to keep it within a touchdown's reach until late in the third was a good effort. Muschamp still has plenty to do.
@ClayTravisBGID @jimdunaway gator fans are running wild in tuscaloosa. pic.twitter.com/g9uc6Yfoyg

— Cole Medders (@cmedders1) September 20, 2014
9) Arkansas (3-1, 0-1) LW: 9- It was a beautiful night in Fayetteville for fans who never had to worry. And one more time for the road because we don't know when we'll get to use it again.
10) Tennessee (2-1) LW: 11- Traveling to Athens this week will give Vol fans a truer vision of what this team is.
11) LSU (3-1, 0-1) LW: 4- Even Les Miles couldn't work his voodoo magic to eek out a win on the Bayou. Instead, his team played more with doodoo magic. What's better than defeated fans after a loss? Defeated LSU fans after a loss.
12) Kentucky (2-1, 0-1) LW: 13- Not playing and moving up in the POWER rankings? Count an SEC 'W' for the Wildcats.
13) Missouri (3-1) LW: 10- What the wha....? Indiana? Go home, Mizzou. Back to the Big 12. No one cares about last year. That was embarrassing.
14) Vanderbilt (1-3, 0-2) LW: 14- The worst team in the SEC held a 14-0 lead in conference. Then, as bad teams do, the 'Dores fell apart, giving up 24 unanswered points.