On Tuesdays, the SEC SB Nation site Team Speed Kills publishes SEC Power Rankings voted on by one representative from each of the SEC team sites. I, unlike the playoff selection committee, believe in being held accountable for my vote and I will share my ballot with you weekly.
As was the case last year, these rankings will  provide a recap with how a particular team is doing, and in addition, will attempt to offer a little humor here and there by way of GIFs, videos, pictures. So if you find see something while you're watching games on Saturday power ranking-worthy, share it with me on Twitter, or on that day's game thread. I won't ESPN you and put sources. I'll give credit where it is due.
Mondays nor losing 10 straight are fun, so these should be.
1) Georgia (1-0)- The most impressive team of the weekend in all the land also has the favorite for Heisman, Todd Gurley after one day of games. However, it was freshman Nick Chubb that came away with the game's most impressive run. "My God, a freshman!"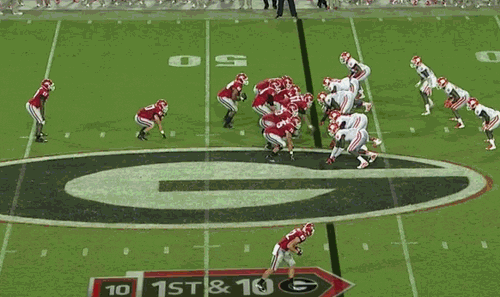 2) Auburn (1-0, SEC 1-0)- Gus is set at backup quarterback just in case Nick Marshal were to get caught, you know, maybe smoking weed. And as if Malzahn needed more speed, check out the naked fan on top left corner of the field.
3) Texas A&M (1-0, 1-0)- Yeah. Yeah. Yeah. Kenny Hill threw for 511 yards and three TDs, but don't forget he's got a little off-the-field Johnny Football in him too.
4) Alabama (1-0)- To get Nick Saban and Lane Kiffin on the same page may take a few games but having T.J. Yeldon and Derrick Henry (239 rushing yards, 3 TDs combined) will help ease the process. This game gave us the image of the year so far:
5) LSU (1-0)- After going down 24-7 early in the second half, the Tigers scored 21 unanswered points. Add that to the fact that Wisconsin's Melvin Gordon only carried the ball four times after halftime, despite having 140 yards through three quarters because Voodoo Les Miles and the Tigers the "W." If the Badgers had hung on imagine the dance moves its kicker would have displayed. 6) Tennessee (1-0)- SEC football is better when Tennessee is good'; it seems to be on its way back. Oh and if you didn't already know, A.J. Johnson is a beast, who also played tuba and was in Guys and Dolls in high school. Thanks for that tidbit, Joe Tessitore. "
Third down for what?"
7) Ole Miss (1-0)- The Rebel defense looked as strong as any SEC unit. If Bo Wallace can stop throwing balls to the other team, this could be a formidable opponent.
8)  Mississippi State (1-0)- It was only Southern Miss a shutout is impressive nonetheless. No matter the fashion in which they won, the mascots stole the show, recreating a legendary college football picture.
9) Missouri (1-0)- The win over South Dakota State was exactly what you expected, nothing overly impressive. Coach Gary Pinkel won his 14th consecutive season opener.
10) South Carolina (0-1, 0-1)- Are the Gamecocks actually this bad or was TAMU just that good? Picked as the preseason winner of the SEC East, there are plenty of questions on both sides of the ball. This about sums up every USC fans' reaction.
11) Kentucky (1-0)- A win is a win, even if it is UT-Martin. We know this as well as any. Nothing like gameday in Lexington!
RT @jenheraldleader: Seven minutes before kickoff: pic.twitter.com/qt1t7ZaQip

— Mark Ennis (@MarkEnnis) August 30, 2014
11) Arkansas (0-1, 0-1)- If the first half is a preview of things to come, then bring it on. I'm afraid the second half is what we'll see more of this season though.
13) Vanderbilt (0-1)- Losing by 30 to Temple is something to be ashamed of. Vandy is the prodigal son of the Power Rankings. They tried to leave the cellar but had to come home.
Not ranked secondary to weather: Florida (0-0)