As the stakes rise each weekend, it becomes more clear that there are classes in the POWER Rankings. Mostly this is because we are three-fourths of the way through the season and each squad's strong points and deficiencies are apparent. We know who they are, very little speculation at this point in the season as to what a team might become.
In addition to the GIFs, Vines, or pictures you've come to expect with this version of SEC POWER Rankings, this week I've added a way in which to denote the class system no in effect among SEC teams. Each class of teams is represented by a current SEC coach with characteristics that can be applied to the teams within each division.
There is the elite class, your Sabans if you will. Week in and week out you know what to expect from these teams. They also still have legitimate national title.
Your Richts come next, where you know what you're getting most of the time, but ultimately you're left disappointed. SEC title hopes live here
Then you have the Bielemas, where the talent and inconsistencies run in stride together.
And finally your Muschamps, where job security becomes an issue.
Fittingly, the Razorbacks find themselves in the Bielemas at this point, but that could change if the first SEC win in two years snowballs into three in a row.
The Sabans
1) Alabama, Last week: 2- The Tide continue to do what they do. If they continue doing it, they will find themselves nestled atop the Final Four. The defense is coming together as solidly as any Saban has had at Bama, while Blake Sims improves weekly. For some reason Uncle Verne and Gary couldn't grasp why Sims has been so much better at home when compared to away games. So I did some of that research stuff and what do you know? It has to do with the competition he's faced.
2) Mississippi State, LW: 1- Dak and Dan were frustrated all afternoon long in Tuscaloosa. We know how you feel. Alabama has ruined the SEC West hopes of many teams before. A few teams will have to go down in front of them to make the playoffs. They'll also need to dominate the Egg Bowl and SEC Championship Game assuming they get there.
The Richts
3) Georiga, LW: 6- So Todd Gurley was looking good... He's still fifth in the SEC in rushing despite missing four games. I didn't feel sorry for him for being suspended, but that's no way for a top-flight player to go down. With him out though. Eerily similar situation to Aaron Murray last year... It's hard to imagine a case where the Bulldogs can take the SEC. UGA has adopted a new motto: In Chubb We Trust.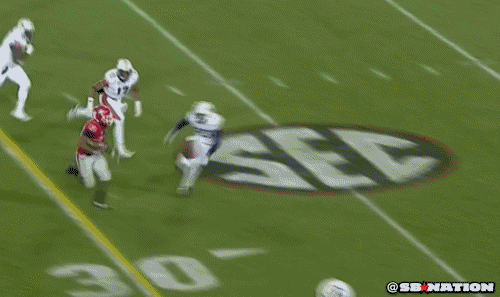 4) Ole Miss, LW: 5- Another week gone and the Rebels still have a shot at winning the West (with some help). Win the Egg Bowl and hope for an Auburn win over Bama.
5) Missouri, LW: 9- The Tigers escaped College Station to keep their SEC title game dreams alive. Only Alabama is better in SEC play since the Tigers joined the league, which is another stat worth reading out loud. Hard to believe.
6) Auburn, LW: 4- Has everyone figured out how to stop Gus' rushing attack? The Tigers had only 150 yards on the ground. I can bet Georgia grad and now defensive coordinator for Alabama will study the film closely and not because he wants to enjoy the Bulldog victory.
The Bielemas
7) Arkansas, LW: 8- Fittingly, the Razorbacks find themselves in the Bielemas, but that could change if the first SEC win in two years snowballs into three in a row. Brent Holoway had the Stat of the Year: Alabama and LSU combined to rush for 100 yards on 64 carries against Arkansas' defense. 100 on 64!!! Enjoy the collection of Happy Hogs
8) LSU, LW: 3- This was about as ugly a loss as the Bayou Bengals have suffered under Les Miles. The Game of the Century II might have been worse because the national title was on the line, but this ranks up there. Sad LSU fans always make me happy though
9) Texas A&M, LW: 7- You had your chances, A&M. With the pressure at its peak, Kevin Sumlin calls this beauty of a play... a screen to the tight end.
10) Tennessee, LW: 11- Joshua Dobbs is living the good life in Knoxville after putting up nearly 350 yards and accounting for four TDs against Kentucky. One more win and the Vols are in a bowl game. What I would like to see is a Tennessee vs. Arkansas game for said bowl berth. What I did get to see is astronaut Dobbs leading the band in what one can only assume is the 564th playing of Rocky Top on Saturday.
The Muschamps
11) South Carolina, LW: 13- It's not that Spurrier would be fired from Columbia; he's taken this program to heights no one thought they could reach. He said in his postgame comments that he felt bad for Muschamp, which is a sign the Ole Ball Coach is slippin' and not having the fun he once did coaching the game. Here's
12) Kentucky, LW: 12- The Wildcats went up early, 3-0, then proceeded to give up 30 consecutive points. That's not how you win a football game.
13) Florida, LW: 10- The Muschamp experiment is over in Gainesville (after he coaches his final two games). He looked defeated in his postgame presser Saturday night. How incredible would it be if his last victory destroyed FSU's playoff bid? Even if he doesn't good for him finally getting a win in the UGA-UF rivalry. He was 0-7 before this year. Do you want more Florida players blocking each other? No you want this punt to the face!
14) Vanderbilt, LW: 14- Another bye week and another week without a loss. Now the Commodores get to take their SEC-worst offense and defense to an angry Mississippi State team.