Don't call it a comeback, but be not surprised if your Hogs are there next year. Ok, yes. Be very surprised.
Speaking of surprises...
1) Auburn (11-1, 7-1 Last Week: 2)- Call it luck, skill, whatever you want. This team is only a few wrong (or right depending on the fanbase) bounces away from playing for a national title. You've seen the play 100 times by now, but since when were sewing machines a regular part of a team's sideline?
2) Alabama (11-1, 7-1 SEC, LW: 1)- Still stunned.
She's lying to you, A.J.!
3) Missouri (11-1, 7-1, LW: 3)- As for you Mizzou, I hope you've ditched that Big 12 passion for football and are ready for the real thing come Saturday in Atlanta. By the looks of things, you're not quite ready for the big leagues.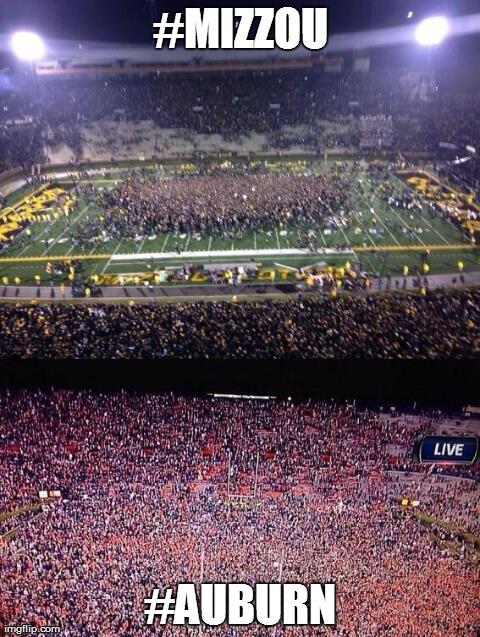 credit: @peytonshead
4) South Carolina (10-2, 6-2, LW: 5)- Jadeveon Clowney makes his presenceknown to Clemson quarterback Tajh Boyd one last time.
credit: b/r
5) LSU (9-3, 5-3, LW: 4)- Jarvis Landry made another "Embarrass Arkansas on Sportscenter" catch.
6) Texas A&M (8-4, 4-4 LW: 6)- Kevin Sumlin added six years to his current contract today, which will give him plenty of time to work on the Aggies' run defense.
7) Vanderbilt (7-4, 4-4, LW: 8)- Wake Forest was so embarrassed by losing to the Commodores this week, the Demon Deacons fired their coach. And while we're on the subject of coaching, Vandy got some good news yesterday.
8) Georgia (8-4, 5-3, LW: 9)- Todd Gurley is the second-best running back to come out of Georgia. There I said it. If you don't know who is first on the list, ask any UGA fan to name him for you. They have sort of a weird obsession with him.
9) Ole Miss (7-5, 3-5 LW: 7)- Dr. Booohhnnoo!
10) Mississippi State (6-6, 3-5, LW: 11)- Good for you Mississippi State. Enjoy that bowl game, and from the bottom of every Arkansas and Ole Miss fan, "you're welcome."
11) Tennessee (5-7, 2-6, LW: 10)- The Vols beat Kentucy for about the 900th time in a row, but they'll have nightmares about that Vandy game all summer long. It was cold in Kentucky, or Smokey's blood is as thick as your grandmother's.
12) Florida (4-8, 3-4 LW: 12)- "It really wasn't as bad as I thought it was going to be," Gator fans on after their loss to Florida State on Saturday, a long fall from winning under Urban Meyer.
From a year ago, but too good to pass up:
13) Arkansas (3-9, 0-8, LW: 13)- Alan D'Appollonio sums up Arkansas' season with his reaction to the aforementioned Landry catch.
14) Kentucky (2-10, 0-8, LW: 14)- You think Mark Stoops realizes what he's gotten himself into?
-----
A native of Arkansas now calling the Hogs from yonder in Georgia, you can follow Graham on Twitter @grahamreaves or read his blog, On My Mind In Georgia.