"Popular demand" being that there were a few of you out there who let me know you liked the addition of the GIFs last week. And if I can make all six of you who read these as happy as this guy, then I feel like I've done my job.
Admittedly, they're not all GIFs, just screengrabs, videos, or a picture I found amusing. Enjoy nonetheless.
1) Alabama (10-0 7-0 SEC, Last Week: 1)- It was more of a struggle than it should have been in Starkville, but can we look at this hit and how it is clearly pushing player safety? Even Marquel Wade knows that was targeting. 2) Auburn (10-1, 6-1 LW: 2)- This one is pretty obvious, but how about Nick Marshall's description of the play?
"I put my trust in my receiver and he put his trust on me" -- Real quote about this play http://t.co/gB6eqjea4W

— Brian Floyd (@BrianMFloyd) November 17, 2013
3) Missouri (9-1, 5-1, LW: 3)- The Tigers have two games left against ranked opponents. They'll need to win both to stave off South Carolina's bid for Atlanta. At least one guy is up to the challenge.
4) Texas A&M (8-2, 4-2 LW: 4)- Both the Aggies and LSU had bye weeks to prepare for their clash in Death Valley on Saturday (and decide who gets the No. 4 spot in my power rankings).
5) LSU (7-3, 3-3, LW: 5)- See above.
6) South Carolina (8-2, 6-2, LW: 6)- A win's a win while the Gamecocks keep on winning, waiting on Mizzou to lose. Check out the kid in Jadeveon Clowney's jersey though who is clearly over sitting by Sid from Toy Story's look-alike.
credit: The Big Lead
7) Ole Miss (7-3, 3-3 LW: 8)- The Rebels beat Troy by 30 no doubt because they rubbed a bald man's bronze bust.
credit: hottytoddy.com
8) Vanderbilt (6-4, 3-4, LW: 9)- And the Commodores are officially bowl eligible for the third straight year. Every Arkansas fan takes another shot of bourbon.
9) Georgia (6-4, 4-3, LW: 7)- Mark Rich lost control of his assistant coaches, but this was a couple of hours after he lost control of himself.
Mark not happy...
10) Tennessee (4-6, 1-5, LW: 10)- If the Vols can't find a way to get a win at home this weekend, it could mean that the SEC can't fill their full allotment of bowl bids. Say this comes to fruition, can't you see those SEC haters taking this to the grave?
11) Florida (4-5, 3-4 LW: 11)- No offense = another Gator loss. Angry Muschamp never gets old though.
12) Mississippi State (4-6, 1-5, LW: 12)- This team threw away chance after chance to make it an at least close game with the visiting Tide. Here's video of a perfectly odd, Mississippi State-style score.
Rugby Scrum! #HailState breaks up shutout w/ this Russell-pile-push-fumble-Charles-Siddoway-recovery. #BAMAvsMSST: http://t.co/XOLSd6nOMO

— ESPN CollegeFootball (@ESPNCFB) November 17, 2013
13) Arkansas (3-7, 0-6, LW: 13)- Plain and simple, this week is the Hogs' best chance at an SEC win.
14) Kentucky (2-8, 0-6, LW: 14)- Wildcat fans were that outside sport with that oblong ball was still being played. If you weren't scared enough of their new freshman Julius Randle, here is a screengrab of him winning a dunking contest over the summer. He's 18.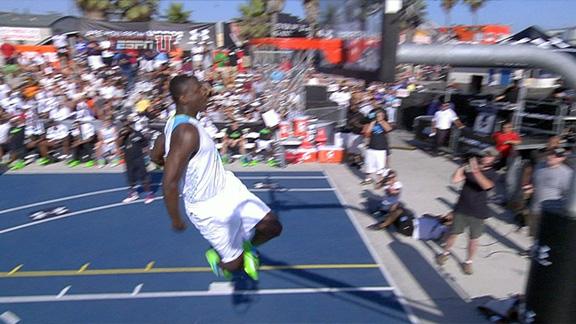 credit: mediumhappy.com
-----
A native of Arkansas now calling the Hogs from yonder in Georgia, you can follow Graham on Twitter @grahamreaves or read his blog, On My Mind In Georgia.