As Arkansas fans there is nothing scarier than what happened to the 2012 season. This week, we'll take a look at some aspect of the games from this weekend that should illicit some fear for either opposing coordinators (like defending FSU's Jameis Winston), players (like blocking Minnesota's Ra'Shede Hageman), or fans (like having to watch Brandon Allen on third down).
Friday Night
USC at Oregon State, 9 p.m., ESPN2 (-2 OSU) - Be afraid of: the Beavers' helmets. The team in Corvallis tries its hardest to keep up with the Jones's in Eugene on the uniform front. Sometimes their not too heinous. Other times -- like this weekend -- their efforts aren't as impressive.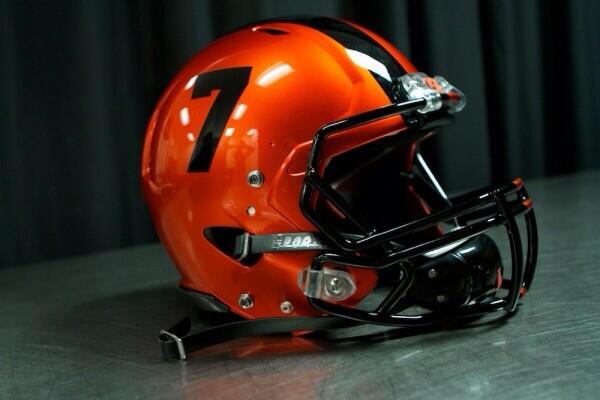 credit: @OSUbeavs_fans
Even with pumpkins on their heads, I'll take the OSU to keep USC from bowl eligibility for at least one more week.
Saturday Noon
No. 4 Ohio State at Purdue, ESPN (-31 Bucks)- Be afraid of: the Purdue football team. The Boilermakers single win this season was their closest game in terms of points (6) yet. It came against Indiana State. Good luck out there against a Buckeye team not afraid to run up the score. 31 points is a lot for a road conference game, but take the Bucks.
Western Kentucky at Georgia State, 1 p.m., ESPN3- Be afraid of: being Bobby Petrino back in the Georgia Dome. Compared to how he left Atlanta, Petrino left Arkansas on good terms. There are plenty of Falcon fans who will be in attendance for the sole purpose of giving Petrino an earful (and I'm sure a couple of those California waves).
Here's Petrino's letter to the players. For real.
credit: Kentucky Sports Radio
Afternoon
No. 8 Clemson at Virginia, 3:30 p.m., ESPN (-18 Clem)- Be afraid of: Tajh Boyd. In the last 17 years the Tigers are 8-8-1 versus the Cavs, but Clemson has never had Tajh Boyd. Of his 10,296 passing yards, 0 have come against Virginia. Look for that to change as the Tigers avoid another conference loss and cover.
No. 21 Michigan at No. 22 Michigan State, 3:30 p.m., ABC (-3.5 MSU)- Be afraid of: Michigan State's defense. It's given up more than 14 points only twice this season and hasn't allowed a touchdown in two weeks. Here's your prototypical, ugly, B1G Game of the Week. I like Sparty at home.
Why do the Wolverines never want to punt? I give you mortified punter.
Georgia vs. Florida, 3:30 p.m., CBS (-2.5 UGA)- Be afraid of: your liver's health. The World's Largest Cocktail Party never disappoints -- at least outside of the stadium. Due to injuries, there isn't much to see on the field this year, but there will still be a party in Jacksonville and all the way up the coast into St. Simon's, Georgia. Take the Dawgs.
And why does Florida hate offense?
Kansas at Texas, 3:30 p.m., Longhorn Network (-27 UT)- Be afraid of: head coaching. Unless there is a miracle in Austin or Andrew Wiggins is any good at football, both of these head coaches look to be on their way out. Jayhawks cover in a Longhorn victory.
Night
No. 11 Auburn at Arkansas, 6 p.m., ESPN2 (-8 Aub)- Be afraid of: predictability. In games with ranked vs. unranked opponents, the ranked team is 3-6, which bodes well for the Razorbacks. I have a hard time not taking Auburn. My question is with all of the success the Gus Bus is riding, how much pressure is on Bret Bielema? Rumors surfaced about Malzahn returning to Fayetteville last year. Certainly Jeff Long and Bielema have had a talk about how sweet of a win this would be. I wouldn't be surprised if there was under the table bonus money involved too.
No. 18 Oklahoma State at No. 15 Texas Tech, 8 p.m., FOX (-2.5 OSU)- Be afraid of: defense. The Cowboys have won the last two games by a margin of 98 points. Both squads are averaging near 40 points per game, too. This game comes down to who has the ball last, and home night game makes the Red Raiders all that more tempting...
No. 7 Miami at No. 3 Florida State (-21 FSU)- Be afraid of: recruiting a player out of Florida. When Florida State beats Miami tomorrow night, it will not only be fortuitous for their national title bid, but the exposure will sell the program that much more. Getting prospects out of Florida is already difficult enough (see: Alex Collins' mama drama), but when one of the big three is steamrolling as the Seminoles are, it becomes near impossible.
Last Week: 7-2-1
Season: 49-30-4
-----
A native of Arkansas now calling the Hogs from yonder in Georgia, you can follow Graham on Twitter @grahamreaves or read his blog, On My Mind In Georgia.