1) Alabama (8-0, 5-0 SEC, Last Week: 1)- Much has been made of Alabama's performance versus every other team but Texas A&M and in reality that game should be held against them. But look at these numbers compiled by the Tide in their seven other games: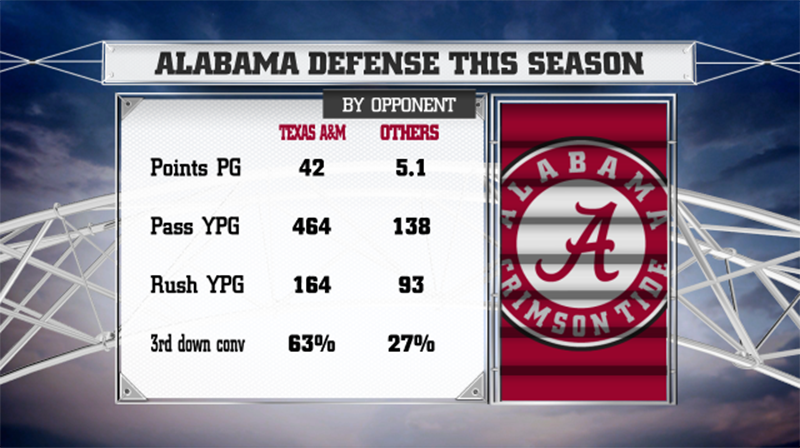 via @SECNetwork
2) Auburn (7-1, 3-1 LW: 4)- A team that keeps winning will continue to rise in the Power Rankings. Then when it loses on the road this weekend it will subsequently fall (wink wink).
3) LSU (7-2, 3-2, LW: 2)- The Tigers keep scaring me early, especially since I usually have them covering the spread. Instead of remaining at the No. 2 spot this week though, they are punished and fall down a spot.
4) Texas A&M (6-2, 3-2 LW: 5)- Aggies put together some defense and looked about how we thought they would.
5) South Carolina (6-2, 3-2, LW: 6)- Here's what the DOINK Heard Round the World sounded like on the field:
This was a big win for the Gamecocks, as they put the proverbial wrench back into the SEC East standings.
6) Missouri (7-1, 3-1, LW: 2)- A week ago there was talk of how the Tigers could make a run for the BCS title. Now?
7) Georgia (4-3, 3-2, LW: 8)- Georgia-Florida in Jacksonville is home to the Largest Outdoor Cocktail Party. In a preemptive move, mixers are not allowed this year so fans can numb the effects from watching this game.
8) Ole Miss (5-3, 2-3 LW: 7)- Paul Petrino managed to lead his offense to 17 points in Oxford. So if the Hogs can't score at least 17 there in two weeks it's time to get rid of Bielema and Co., right?
9) Florida (4-3, 3-2 LW: 9)- See No. 7
10) Tennessee (4-4, 1-3, LW: 10)- Saban remains undefeated against the Volunteers. And to think, some idiot (this guy) thought the Vols could cover in Tuscaloosa.
11) Vanderbilt (4-4, 1-4, LW: 11)- After showing "promise" last week against a depleted Georgia team, the 'Dores were back in Vandy form. Franklin. Out.
12) Mississippi State (4-3, 1-2, LW: 12)- Not the sort of recruiting tool you want to use when the winning quarterback gets this sort of treatment:
Dak Prescott said he was purposely kicked in the shin this morning by another student outside the MSU health center

— loganlowery (@loganlowery) October 29, 2013
#hailshinkickers
Prescott's reaction...
13) Arkansas (3-4, 0-3, LW: 13b)- The Razorbacks will face their fifth-straight ranked opponent this week, the longest stretch in school history. All we want is to better be better against ranked opponents (.200) than the Cardinals' bats were against the Red Sox.
14) Kentucky (1-6, 0-4, LW: 13a)- From the bottom of every Razorback's heart, thank you for holding down that bottom spot.
-----
A native of Arkansas now calling the Hogs from yonder in Georgia, you can follow Graham on Twitter @grahamreaves or read his blog, On My Mind In Georgia.