Admittedly, I was starting to get the big head.
Thus far on the season I was holding my own against the line, especially for my first year of stepping up to the big leagues and picking games based on the spread and not straight up. But last week, Vegas knocked me back down and provided my first losing effort on the season (4-5).
What do you do when you get knocked down?
Samuel L. Jackson says that "Falcons 'Rise Up." I'll do the same and am going Joe Namath on you (in honor of Arkansas' opponent tomorrow), guaranteeing a winning weekend.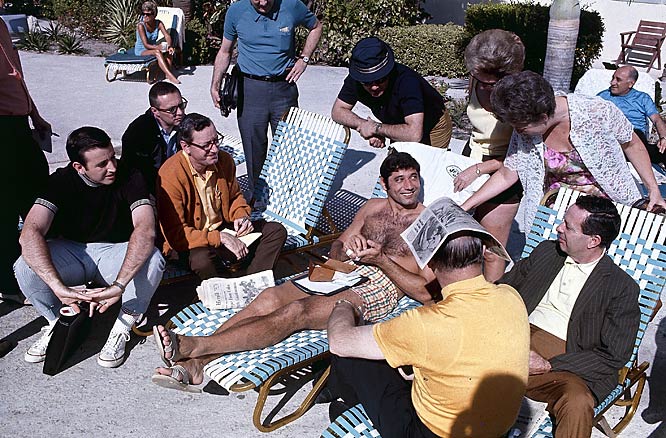 via: remembertheafl.com
Enough with the NFL references and on to picking games from the other pro league. [elbow nudge to you, NCAA]
Noon
No. 11 South Carolina at Tennessee, ESPN (-7 USC)- Last week on the road, South Carolina... oh yeah, you remember that, too? Tennessee has been hit (taking UGA to overtime) or miss (relying on a red zone stop to beat South Alabama) at home. With two consecutive road games, the Gamecocks will not be as sharp as last week, but they will score at least seven more than the Vols.
No. 15 Georgia at Vanderbilt, CBS (-7 UGA)- Their shot at the national championship is gone, but can the injury-ridden Bulldogs salvage what's left and put together a trip to Atlanta? Ironically, Vandy WR Jordan Matthews could set the SEC mark for career receiving yards against the team for whom the current record holder (Terrance Edwards) played for. Matthews is 102 yards away. Dawgs on top and cover.
No. 22 Florida at No. 14 Missouri, 12:21 p.m., SEC Network (-3 UF)- Missouri is undefeated. Let me say that again and let it simmer: Missouri is undefeated with an opportunity for back-to-back wins over ranked teams. If only the Florida offense could score points, any at all. Because of the Gators' ineptitude on that side of the ball I have to take the Tigers.
Afternoon
No. 24 Auburn at No. 7 Texas A&M, 3:30 p.m., CBS (-13.5 TAMU)- More from the world of "surprising SEC news," Auburn is ranked in Gus Malzahn's first season. Yep... Uncle Verne and his sidekick Gary will host you to a pleasant afternoon in College Station where Johnny Football will have a stat-padding sort of day and beat the Tigers easily.
No. 9 UCLA at No. 13 Stanford, 3:30 p.m., ABC (-6 Stan)- Over the last two years the Bruins are 4-2 when facing ranked teams. The two losses came via the Cardinal. Also, Stanford has not lost to a fellow California team in 14 tries and it was 2009 when it last lost consecutive games. You take the points. I'll take the Trees.
Night
Arkansas at No. 1 Alabama, 7 p.m., ESPN (-28 Ala)- Unless there is some sort of drastic change from the time of this publishing and kickoff, this game will be a snoozer by halftime. Here's one reason to keep watching. Arkansas hasn't scored in the fourth quarter in the last four games Will that change here? Bama by more than four touchdowns.
If the Razorbacks do lose, maybe we will be given the courtesy of a similar video from Michael Strahan's lighter-colored brother, Skeagle1:
Roll tahd.
No. 6 LSU at Ole Miss, 7 p.m., ESPN2 (-8 LSU)- Last week I underestimated the Rebels at home hosting the Aggies, as they covered. I like the Tigers for the same reasons I like the Aggies last week. In my own version of the famed Bushism: "Fool me once, shame on you. Fool me twice... well... you won't fool me again!"
No. 5 Florida State at No. 3 Clemson, 8 p.m., ABC (-3 FSU)- You've got a freshman quarterback his first big road game (Jameis Winston) vs. a fifth year senior quarterback at home (Tajh Boyd). Both are Heisman contenders. But my pick is based on the defense. Florida State is more than athletic. The emergence of Clemson's defense has been one of the bigger surprises this season. At home, with three points, make the Tigers too tempting not to take.
Late Night
Washington State at No. 2 Oregon, 10 p.m., FOX Sports 1 (-39 Ore)- The team that wins the 8 o'clock game in Clemson will get enough attention from the media to make an argument for jumping the Ducks, who are currently in the No. 2 spot. The Ducks know this and should keep running up the score to impress voters, but 40 is a ton of points. I guess the Cougars cover..?
Last Week: 4-5
Season: 38-23-3